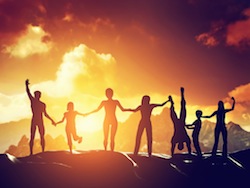 We come across various people during our time in our lives. Some stay, some just meet us on our path. The ones who stay become our strength and the guiding force in our lives. These people are constant and will never leave us no matter what situation we face, at any point of time.
Our parents, better half and our close friends are the ones who know the real us. These people have seen our good side and have also reconciled with our not so good side. Every person needs this kind of inner circle whether they move forward and backward in life. It is this inner circle that creates a bond of love, understanding and happiness. Being with them, one can forget all their troubles and enjoy life.
Even a sitcom like F.R.I.E.N.D.S demonstrated the importance of friends and family in life. There was Rachel – the spoilt warm-hearted girl, Monica – the compulsive obsessive and uptight one, Phoebe – an odd and sweet hearted masseuse, Joey – the food lover and struggling actor, Chandler – the one with sarcasm and jokes up his sleeve and Ross – the paleontologist with his love for dinosaurs. Everyone loved this show, mainly because everyone craves for a friendship like this in their lives.
"You don't need a lot of money to lead a rich life. Good friends and loving family are worth their weight of gold."
So find your inner circle today and treasure them. They are an important part of your life.