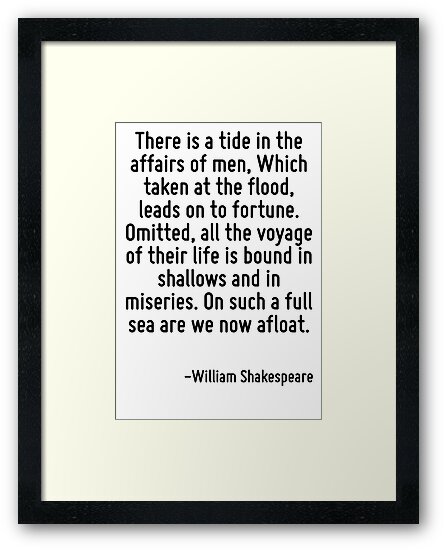 The word prompt "Tide" reminded me of this famous quote by Shakespeare in Julius Caeser. Brutus is discussing the civil war against Octavius Caeser and Mark Anthony, with Cassius.
This is one of my favorite plays of Shakespeare. It is a masterpiece and conveys feelings of trust, friendship, betrayal, treachery and regret.
Each character shows different shades to them and there is a thin line between the good and evil. It is only in this play that you tend to sympathize with Brutus who makes the worst form of betrayal to Caeser for the greater good.
One also gets to see the fickle mindedness of the general crowd who are ardent supporters of Brutus, but on a emotional and moving speech by Mark Antony, turn against Brutus.
Friends, Romans, Countrymen.. Lend me your ears, I come to bury Caeser not to praise him. The evil that men do lives after them, the good oft buried with their bones…"
It is this play that helped me realize my love for English Literature. I am forever indebted to Caeser and Shakespeare for this gift.
Ending this blog by one of my favorite quotes,
"I came, I saw, I conquered" – Julius Caeser